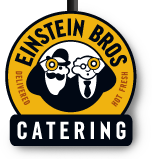 Einstein Bros®Bagels Catering FAQ
What is catering at Einstein Bros Bagels?
We offer a quick and easy way to order pickup and delivery from our catering menu. Choose from fresh baked breakfasts and pastries to hot egg sandwiches and Darn Good coffee, our breakfasts are the perfect way to start the day. Tasty lunches include sandwiches, salads and fresh baked cookies sure to fulfill your group needs.
How do I order?
It is simple! Place your order online at www.ebcatering.com or give us a call at 1-800 BAGELME (800-224-3563). Our catering specialists are available in your local time zone Monday – Friday as early as 6AM to late evenings, Weekends 7AM – 3PM.
How do I get my order?
We have two options to make your life easy – delivery or pick up! If you would like to pick-up your order, chose your location. Or if you would like it delivered, simply chose the date and time you would like your delivery and we will select the closest store to your delivery address.
Wait, you deliver?
Yes we do! Delivery is available in most areas. To check on availability in your area enter your zip code and choose delivery or call us at 1-800- BAGELME (800-224-3563). Most orders need a 2-3 hour notice from the time you place your order.
How late can I place my order?
We accept orders for both pick-up and delivery during each store's business hours as follows:
Online – Orders can be placed within 3 hours of delivery or pickup if placed between 6 AM and 4 PM (subject to change per store locations) in the stores time zone. If you place your order after 4 PM and needed the next day by 9 AM – we are happy to have this order ready at the store, but delivery is not an option. All next day orders can be delivered after 9 AM.
Over the Phone – Most orders can be accepted by 2-3 hours before you need it.
I have ordered before, but not online. How do I do that?
If we have your email address, then you can order online. To retrieve your temporary password, simply click here to enter your email address. You'll receive a temporary password in no time!
I entered my email address, but I haven't received my temporary password. What do I do?
If this happens, check your spam or junk folder for the email. If it's not there, you will need to contact your network administrator and ask them to add info@einsteinnoah.com to the safe list of emails which will allow our emails to reach you. In the meanwhile, give us a call at 1-800-BAGELME (800-224-3563) and we can place your order for you over the phone.
What is your delivery fee?
$10 for orders up to $200 or 5% of the order amount on any order over $200.
How do I pay for my order?
We accept Visa, MasterCard, American Express and Discover cards for payment.
We pre-authorize your card when you place your order, but it will not be processed until the day your order is fulfilled.
What is a pre-authorization?
When you place an order, an authorization is placed on your card. This allows us to secure payment on the day your order is fulfilled.
Why is the amount on my card different from the amount on my invoice?
To account for tax differences, we pre-authorize 1% above the total amount of the order. However, you will only be charged the amount of your order.
How do I receive a copy of my receipt?
Simply login to your account and click on "My Account." You can print off your PDF receipts 24/7!
I am not receiving email confirmations of my orders, how do I get these?
You can either go online to print or save a copy of your orders is the quickest and most efficient way to get these. Also, adding invoice@einsteinnoah.com to your address book is the next step to receiving you orders. If that does not work, contact your network administrator to add invoice@einsteinnoah.com to allow emails in from that address.
How do I add notes or special instructions?
Simply call 1-800-BAGELME (800-224-3563) and a catering specialist can add instructions to your order.
How do you ensure that the store receives my order?
Once we confirm your order, it is immediately transmitted to the restaurant for execution. We are lightening fast! You will see the order at the same time through a confirmation email.
What is your cancellation policy?
Einstein Bros® understands that plans can change and we will gladly assist you in making changes to your catering order's pick-up/delivery date and time. We accept cancellations prior to 4:00 PM in the time zone that the order is scheduled for the day before a weekday pick-up or delivery and 4:00 PM in the time zone that the order is scheduled for on Friday for a weekend pick-up or delivery. Einstein Bros® reserves the right to charge your credit card or house account 50% of the price of the order amount if you cancel an order within 12 hours of the pick-up/delivery time of the order and 100% for orders canceled less than 12 hours from time of pick-up/delivery. For orders of $300 or more, a 24 hour notice is required for cancelation. If an order is canceled within 24 hours of pick-up/delivery, Einstein Bros® reserves the right to charge your credit card or house account 100% of the price of the order amount.
If I pick up my order do I pay for it at the store?
No, when you place your order online or with one of our catering specialists, your payment captured at that time. All you have to do is walk to the cashier's station and grab your order! It's really that darn easy!
If I have my order delivered, can I add a tip for the driver?
While we appreciate your generosity, we do not accept tips. We ensure our employees are fairly compensated for their work. Most of our guests appreciate that we include all fees in the invoice too!
What if I want to pay with a check or cash for my order?
Cash is not accepted for advance orders. We prefer credit cards for payment. However, if your company or organization places orders on a frequent basis, you may qualify for a House Account which once approved, allows payment via check. Please see more information below.
Can I be billed instead of charging my credit card for each order?
Yes you can! All we need you to do is fill out our House Account Application. It generally takes 1-2 business days to process.
My company pays with a Purchase Order, do you accept those?
Yes we do! We need you to fill out a quick form, fax that over to us and then send over the PO so we can get that applied to your account.
What happens if I change my order, will I still get charged for the initial order?
No you will not. You will only be charged for the items you receive in the order.
Can I keep a credit card on file?
Yes! Our site is 100% secure. We can store your credit card, should you chose that option.
Why is the catering menu different from the store menu?
We have selected products that best suit delivery and maintain our high standards of quality and freshness for presentation on our catering menu.
Can I order from my favorite store?
Yes! We understand many of our guests have long time relationships with their local store and want you to continue with them! Once your login, go to the "My Preferred Store" section to choose your favorite store. Or you can call us at 1-800-BAGELME (800-224-3563) and have a catering specialist select your store for you.
I want to be able to pick out the bagels, sweets and shmears that I want. Can I do that if I place my order online?
Absolutely! Once you add an item to your cart, you can choose the selections that YOU want.
What do you do for people with food allergies?
Our bagels are made in a facility that uses milk, eggs, wheat, soy, peanuts, and tree nut ingredients. Our bagels are also made on equipment that processes tree nuts. Our stores carry tree nut and peanut ingredients so the possibility for cross contamination exists. Our store managers are Serv Safe trained and are aware of the sensitivities of our guests. If you have a high sensitivity to a specific allergen, please call and discuss your concerns with the manager on duty at the store. Our stores are willing to and will attempt to work with our guests to minimize allergen concerns. For a list of the allergens and ingredients in our products please see our Nutritional & Allergen Information. Please call us at 1-800-BAGELME (800-224-3563) so our catering specialists can note your order accordingly.
How I do update my personal information online?
You can update your information (including your email address), add or remove a credit card to keep on file for your orders, view your upcoming orders, and view your standing orders.
My company is tax exempt, how do I apply that to my order?
Simply give us a call and we will add the number to your company account. In addition, we will need you to fax a copy of the certificate to keep with our files.
Do napkins, plates and utensils come with my order?
Everything you need for your order comes with it. Click on each menu item for information on what is included.
I have an order for a very large group of people (150 or more); can you help me with that?
We certainly can! You can email us at catering@einsteinnoah.com or give us a call at 1-800-BAGELME (1-800-224-3563) and our catering specialists will assist you!
How do I get a copy of the menu?
Our online menu is always the most up to date however click here to print a menu.
What size of order can I place?
You can order for any size for pickup and we accept any size order for delivery so long as it is over $50. We have a wonderful team of experts that handle orders from 4 to 4,000 people.